Science Circus Pacific — Fiji and Samoa in September
Throughout three weeks of September, members of the Science Circus Pacific team travelled to Fiji and Samoa to work with local partners to co-develop and co-deliver engaging STEM activities.
Two Imagine Samoa Explainers demonstrating physics principals
This was an opportunity to build on existing relationships while testing collaboration methods and trialling novel content.
The team, made up of two ANU representatives (Joe Duggan and Emily Standen) and nine Pacifica staff and volunteers (two in Fiji, seven in Samoa) engaged a total of 4,179 individuals through hands on workshops, science shows, tinkering activities and training sessions.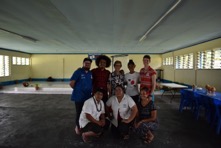 The entire SCP/Imagine Samoa team